Pocketed Shower Curtains for Adults
Who couldn't use a shower curtain with pockets for storing bath necessities -- right within easy reach? Adults gave us this idea! Why not offer our patented pocket curtains in white, clear or pastel paterns? And so we do.
Use them by themselves or as liners inside your regular shower curtains.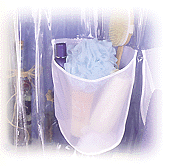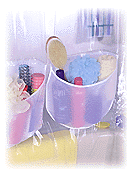 Our pockets can hold shampoo, soap, sponges, brushes, emoluments... you name it! Tired of having to stretch or get out of the tub to get those bath beads? Tired of the clutter of bottles jammed into the tiny ledge surrounding most tubs?